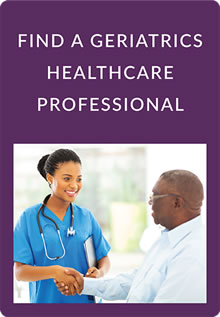 Through the Health in Aging Foundation, we provide patient education materials for our members and the public at large to advance our commitment to the health, independence, and quality of life of all older adults.
HealthinAging.org is the Foundation's public education portal, providing older adults and caregivers with up-to-date information on health and aging—as well as access to a network of geriatrics healthcare professionals.
Click here to access patient handouts
Click here for the full range of searchable resources available from HealthinAging.org
Are you a member of the Health in Aging Foundation's Geriatrics Healthcare Professional Directory?
Contact membership@americangeriatrics.org or update your member profile to be listed.
After spending some time on HealthinAging.org, I could not believe the amount of information contained on it. They have made a tremendous effort to distill technical and scientific information into a format and language that is easier to comprehend for most of us. - Amanda C., caregiver from San Diego